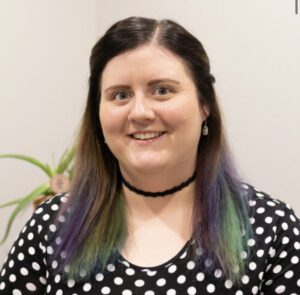 There's a difference between surviving and thriving. I believe that Therapy can help people work towards healing past wounds, adjusting to life challenges, examining beliefs, and finding skills to make positive changes. This is how we thrive; by seeking help from another person. We are built for connection and Therapy provides the space to reconnect with self and others. I use a variety of approaches and techniques to help my clients gain relief and meet their goals.
I am a licensed mental health care professional (LPC-MHSP) in Tennessee with 8 years of work experience. I have experience in helping clients with stress and anxiety, depression, coping with addictions, eating disorders, trauma, and relationship issues. I will tailor our dialog and treatment plan to meet your unique and specific needs. My primary focus is the use of dialectical behavioral therapy, trauma-focused cognitive behavioral therapy; with an emphasis on seeking solutions.
My therapy style is warm and interactive. I provide a non-judgmental atmosphere where you feel safe and accepted. I believe you're the expert of your life, and I will treat your story with compassion and respect.
Insurances Accepted: 
BCBS, Cigna, Aetna
$175/session (without insurance)
Demographics: 
Teens, Adults
Communities: 
LGBTQ+ Affirming
Sex Positive
Body Positivity
Experiences: 
Addiction, Alcoholism, Anxiety, Body Image Issues, Depression, Eating Disorders, Emotional Regulation, Gender Issues, Grief and Loss, Life Transitions, Open Relationships, Non-Monogamy, Racial Identity, Relationship Issues, Self Esteem, Self-Harm, Sex Addiction, Sexual Assault, Stress, Trauma, Women's Issues
Diagnosis: 
Bipolar Disorder
Borderline Personality Disorder (BPD)
Disruptive Mood Dysregulation Disorder (DMDD)
Generalized Anxiety Disorder (GAD)
Post-Traumatic Stress Disorder (PTSD)
Modalities: 
Cognitive Behavioral Therapy (CBT)
Trauma-Focused Cognitive Behavioral Therapy (TFCBT)
Dialectical Behavior Therapy (DBT)
Eye Movement Desensitization and Reprocessing (EMDR)
Mindfulness
Expressive Arts
Grounding
Narrative
Solution Focused
Client Centered