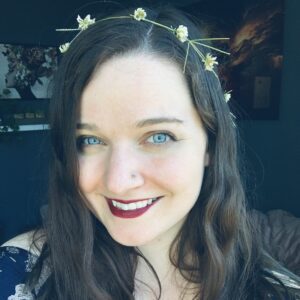 When major changes and challenging circumstances occur within someone's life, it can be hard to know how to move forward. I am here not to be solution but to be a guide, shining a flashlight on the path ahead and walking side by side with you.
I use a variety of interventions and approaches that meet my clients where they are. I am trained in EMDR and incorporate art, sand tray, and play into my practice. I offer space for my clients to come as they are and better understand themselves through creative collaboration and storytelling. At my core, I believe that each person holds the answers to their healing inside of themselves. This is why I am highly person-centered in my therapeutic approach. Within the therapeutic alliance, curiosity and healing can flourish.
Together, we will set goals, face issues and challenges head-on, and explore together what it looks like to apply new skills and practice healthy and sustainable self-care and awareness within a safe environment.
I have experience helping clients of all ages to address trauma, anxiety, depression, major life changes, relational boundaries, self-harm, and interpersonal conflict. In my work with children and adolescents, I believe in the power of creating a space to express and explore freely while also providing resources and support for parents so that there is harmony in and out of session.
Insurances Accepted: 
BCBS, Tricare, Cigna, Aetna
$175/session (without insurance)
Demographics: 
Children, Teens, Adults
Communities: 
Faith Based Affirming
LGBTQ+ Affirming
Sex Positive
Experiences: 
Anxiety, Behavioral Problems, Depression, Eating Disorders, Emotional Regulation, Grief and Loss, Life Transitions, Open Relationships, Non-Monogamy, Relationship Issues, School Issues, Self Esteem, Self-Harm, Spirituality, Stress, Suicidal Ideation, Trauma
Diagnosis: 
Obsessive-Compulsive Disorder (OCD)
Post-Traumatic Stress Disorder (PTSD)
Borderline Personality Disorder (BPD)
Generalized Anxiety Disorder (GAD)
Modalities: 
Play Therapy
Eye Movement Desensitization and Reprocessing (EMDR)
Cognitive Behavioral Therapy (CBT)
Trauma-Focused Cognitive Behavioral Therapy (TFCBT)
Dialectical Behavior Therapy (DBT)
Expressive Arts
Sand Tray
Internal Family Systems (IFS)
Client Centered