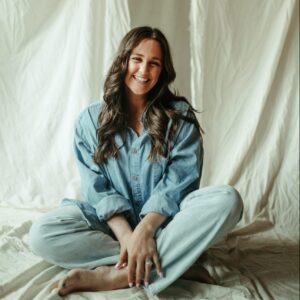 "Be messy and complicated and afraid and show up anyway" - Glennon Doyle
I am honored to be able to sit with clients who are all of the above. I invite you to be messy, complicated, afraid, and to still show up and also find the beauty in all of those things. It is my hope that as your counselor I can come along side you to face the harder things in life and to celebrate the beautiful ones. I want you to feel seen and heard but also empowered and brave.
I utilize a combination of modalities such as CBT, Narrative, Solution-Focused, EFT, Grounding, and Mindfulness.
I am so excited to start this journey with you!
Insurance Accepted: 
Cigna
$40/session (without insurance)
Demographics: 
Children, Teens, Adults, Couples, Premarital, Autism, Special Needs/Disabilities, Elderly, Sex therapy
Communities: 
Faith Based Affirming
LGBTQ+ Affirming
Military Life Experience
Sex Positive
Body Positivity
Experiences: 
Abortion, Addiction, Alcoholism, Anger Management, Anxiety, Behavioral Problems, Body Image Issues, Depression, Divorce, Domestic Violence, Eating Disorders, Emotional Regulation, Fertility Issues, Gender Issues, Grief and Loss, Life Transitions, Relationship Issues, School Issues, Self Esteem, Self-Harm, Sex Addiction, Sexual Assault, Stress, Women's Issues
Diagnosis: 
Attention-Deficit/Hyperactivity Disorder (ADHD)
Bipolar Disorder
Borderline Personality Disorder (BPD)
Disruptive Mood Dysregulation Disorder (DMDD)
Generalized Anxiety Disorder (GAD)
Post-Traumatic Stress Disorder (PTSD)
Modalities: 
Play Therapy
Cognitive Behavioral Therapy (CBT)
Trauma-Focused Cognitive Behavioral Therapy (TFCBT)
Dialectical Behavior Therapy (DBT)
Mindfulness
Sand Tray
Interactive Therapy
Internal Family Systems (IFS)
Grounding
Body Scanning
Emotionally Focused Therapy (EFT)
Prepare/Enrich
Narrative
Solution Focused
Client Centered