Master's Level Therapist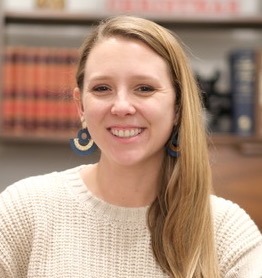 The world we live in is full of opportunities to disconnect, avoid emotions, and escape reality. I believe that healing is often found through connection to people around us, connection to nature, and the ability to sit with both comfortable and uncomfortable emotions. In therapy, I work to create an authentic, non- judgmental, welcoming, and trustworthy environment through which healing and growth may occur. I believe that the therapeutic relationship is crucial to the success of counseling, and place great importance on it.
Through mindfulness, thought and behavior modification, solution-focused modalities, art therapy, play therapy, and more, I work with my clients to help them create growth within themselves. I am trained in Animal Assisted Psychotherapy, and work to facilitate experiences that help connect clients back to nature.
My passion is learning about people's stories, and joining them for part of their journey through life. Finding the right therapist can be difficult, but I would truly love to get to know you. If you feel we may be a good fit, I encourage you to reach out to me.
Insurances Accepted: 
Cigna, Aetna
$90/session (without insurance)
Demographics: 
Children, Teens, Adults
Communities: 
Faith Based Affirming
LGBTQ+ Affirming
Sex Positive
Body Positivity
Experiences: 
Addiction, Anxiety, Behavioral Problems, Career Counseling, Depression, Divorce, Emotional Regulation, Financial Issues, Gender Issues, Grief and Loss, Life Transitions, Open Relationships, Non-Monogamy, Relationship Issues, School Issues, Self Esteem, Stress
Diagnosis: 
Generalized Anxiety Disorder (GAD)
Modalities: 
Play Therapy
Puppets
Cognitive Behavioral Therapy (CBT)
Mindfulness
Expressive Arts
Music Therapy
Sand Tray
Grounding
Body Scanning
Solution Focused
Animal Assisted (metaphorically)
Client Centered
Nature Based therapies